In November of 2012, the Ouray City Council commissioned KRW Associates LLC (www.krw-associates.com) to conduct an assessment of the Ouray Police Department. The intent of the assessment is not to look at how the department has operated in the past but instead to review the general operations, scheduling, staffing, and policies of the department with recommendations on how to move the department forward. Dr. Fred Rainguet of KRW Associates presented the assessment (83 pgs, 22 MB) to the City Council during the March 18, 2013 City Council meeting.
City Council has implemented a new policy for water turn off/on effective January 1, 2013. The intent of the policy is to establish in writing, procedures and guidance for utility customers and City staff. Property owners and designated property managers will be required to complete a Water Service Turn Off/On form a minimum of two (2) business days before the service is provided. Fees for this service will be $20 for turn off and $20 for turn on. The policy details and request form can be picked up at City Hall.

Those properties that currently have their water shut off will not be subject to the fees until after July 1, 2013.
Weather and Roads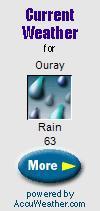 Ouray Live WebCam
CDOT Road Report